Vanessa Willetts, DC, is a chiropractic physician who takes a holistic approach to helping patients feel and be well. She employs a variety of techniques: chiropractic adjustments, medical acupuncture, clinical nutrition and functional medicine, to address the underlying cause of dysfunction for each individual. Read on for more information about each aspect of Dr. Willetts' clinical approach to helping you achieve optimal wellness.
She uses a variety of chiropractic techniques—some of which are very gentle and cause no "popping" or "cracking" sound. These techniques include Diversified, Activator, SOT, drop table, flexion-distraction and soft tissue modalities similar to therapeutic massage. Her aim is address the underlying causes (not merely the symptoms) of musculoskeletal pain. As part of her customized treatment plans, Dr. Willetts also offers research-informed advice on posture, sleep, stress reduction, and rehabilitative exercise, as these issues are often at the root of why the pain appeared in the first place.
Dr. Willetts graduated cum laude with her Doctor of Chiropractic degree in 2006 from Logan University in St. Louis, MO—one of the leading chiropractic colleges in the United States. She received a B.S. in Human Biology summa cum laude from Logan in 2004 and a B.A. in Religious Studies magna cum laude from Indiana University in 2000. Dr. Willetts also holds post-graduate certificates in Advanced Clinical Nutrition and Prenatal/Pediatric Chiropractic from Logan University and is a member of the British Medical Acupuncture Society.
"Dr. Willetts is amazing, I feel so relaxed and complete after being adjusted and having acupuncture."
Dr. Willetts began her acupuncture training in 2005, but she found that ancient Chinese ideas about energy channels in the body were difficult to situate within a modern, scientific understanding of human anatomy and physiology. When, a few years later, she discovered medical acupuncture—which blends the best of traditional Eastern treatment methodology with modern Western scientific knowledge—she was hooked. In addition to over 100 hours of ongoing post-graduate acupuncture studies at Logan, Dr. Willetts completed a comprehensive training course with the British Medical Acupuncture Society in 2013, including special training in acupuncture for pregnancy.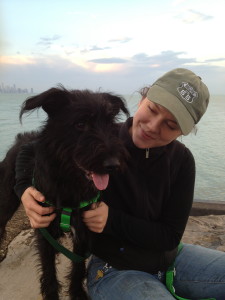 Further enhancing Dr. Willetts' patient-centered, holistic approach to wellness, her individually-designed nutritional programs can enhance the health and function a range of areas, including detoxifying the body, balancing stress and sex hormones, and supporting musculoskeletal and digestive tract health. She received post-graduate certification in Advanced Clinical Nutrition from Logan University in 2010, and is currently pursuing her certification from the Institute for Functional Medicine. She anticipates completing her IFM certification exam in April of 2017.
As a young adult, Dr. Willetts suffered back pain that hindered her enjoyment of life for years. After trying a range of conventional and alternative treatments, she was finally helped by a gifted chiropractor and was inspired to learn how to give the kind of help she'd received to others. In her spare time, she enjoys doing yoga and Pilates, cooking, reading, and taking walks by the lake with her dog, Kopi, and her partner, David, who is a philosophy professor at the University of Chicago.
Dr. Willetts' Rates & Availability
Dr. Willetts' rates vary according to the complexity of each case and time spent.
RATES
Click HERE for rates.
HOURS
Monday 12-5:45
Tuesday 10-5:45
Wednesday 12-6:15
Thursday 10-5:45
Friday 10-6:15
Second Saturday each month 10-3